Made of cotton, white and cobalt blue stripes, this prisoner uniform jacket has five white buttons and three pockets cut from the same striped fabric. Zigmund Schick most likely received it upon his arrival at the Auschwitz concentration camp in 1942.
The striped uniform of camp prisoners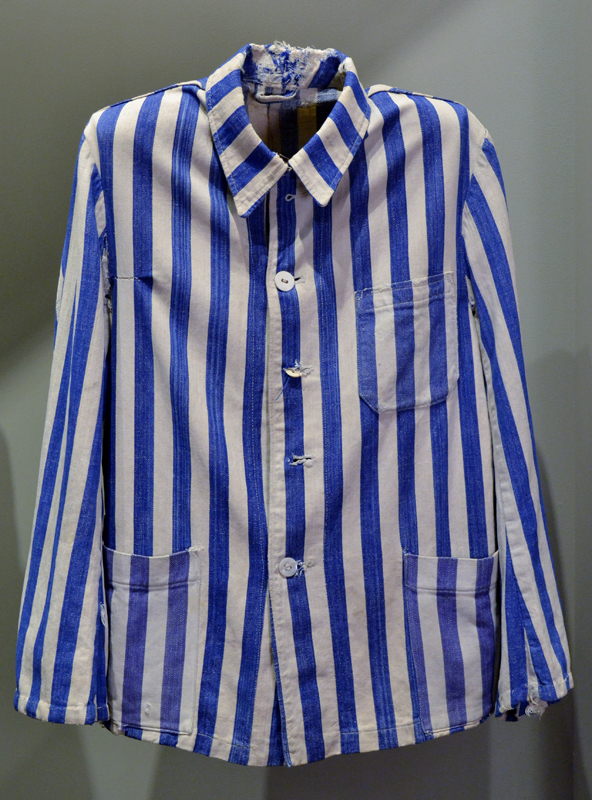 1
A prisoner's jacket that once belonged to Zigmund Schick. Made of cotton, white white and cobalt blue stripes, it has five white buttons and three pockets cut from the same striped fabric. In concentration camps, prisoners were required to wear clothing that distinguished them from civilians or military personnel.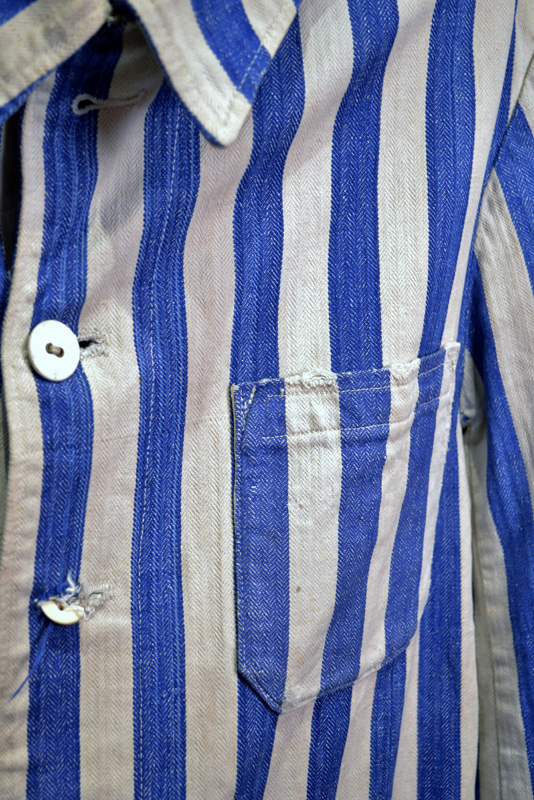 2
The pockets of the jacket are a remarkable feature, since not all uniforms were provided with them.
Visible Pockets: A Special Feature
The uniforms received by prisoners contributed to their dehumanization by erasing individuality and reducing people to an indistinct mass. The highly visible and distinctive colours made any attempt to escape extremely difficult. The three visible pockets are a notable feature on this specific uniform. They imply a special status for the wearer, who was granted this otherwise forbidden practical element.
From Auschwitz to Canada
Zigmund Schick was born in 1920 in Somotor, Slovakia. He moved to Antwerp, Belgium, with his family in 1927. First assigned to forced labour in the Mazures camp in France, he was then deported by convoy number XV from Mechelen to Auschwitz where he arrived on October 26, 1942. There, he was given the prisoner number 70672 for identification and likely received his striped uniform. He was selected again for forced labour in a coal mine. Upon his liberation by the Russian army on January 29, 1945, he obtained an identity card from the Belgian Repatriation Commission which declared to be responsible for him. In 1951, he immigrated to Canada with his wife, Edith, and their sons Mark and Harry.
His family donated Zigmund's jacket to the Museum in 1979.
Telling the Story in Memory of Survivors and Those Killed: The Involvement of Agneta Hollander
Agneta Hollander, a guide at the Museum since 2012, recorded this video in which she talks about Zigmund Schick's uniform jacket as part of the "Objects of Memory" project.