This brown leather autograph book closes with a metal lock. Its pages are filled with messages and drawings dated from 1938 to 1943. This book belonged to Hanna Landé, a German Jew interned in Gurs camp in South of France.
The Story of Hanna Landé
Hanna Landé lived in Paris in 1938, then moved to Villerbon in December 1939. She was deported to the Gurs camp in South West France in July 1940. Many messages in this booklet refer to her beautiful voice and musical talents. She was detained in Gurs until June 1943.
Gurs Internment Camp in France
The Gurs internment camp was located close to the Spanish border in South West France. It served as an internment camp for Spanish refugees during the Spanish Civil War of 1936-1939. Following the occupation of France, the Vichy government interned Jews at Gurs before their deportation to Nazi camps, mainly Drancy and Auschwitz.
Wulfram Wendt donated this autograph book to the Montreal Holocaust Museum in 2008.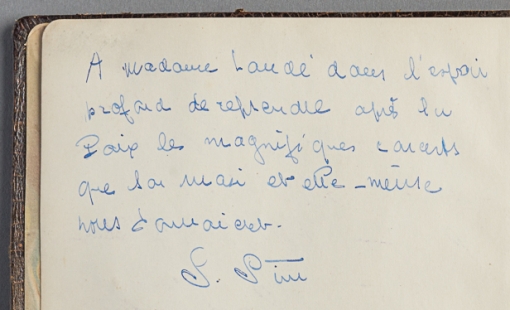 To Madam Landé in the profound hope that she will resume, after peace is achieved, the beautiful concert that she and her hands offered us.


S. Stui
This project is part of the implementation of the Plan culturel numérique du Québec.