Join us on the Montreal Holocaust Museum's Facebook and YouTube pages on Wednesday, April 27, 2022 at 7:00 pm to commemorate Yom Hashoah Vehagvurah, Holocaust and Heroism Remembrance Day. On this day and every day, we remember the victims of the Holocaust, honour the survivors, and learn the difficult lessons of the past.
Wednesday, April 27, 2022 at 7:00 pm
Reservations not required
Yom Hashoah 2022 Program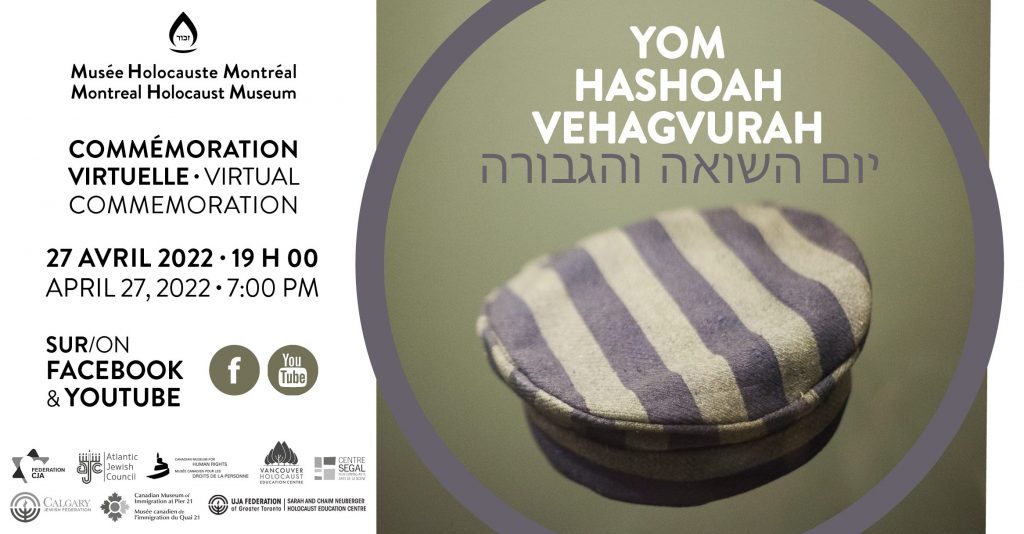 This year's virtual ceremony in English and French will include a special conversation between Maxwell Smart, Holocaust survivor and artist, and Elaine Kalman Naves, author and journalist. Learn how Maxwell's remarkable life story of loss, survival, and resilience remains an inspiration for his powerful artwork today.
The ceremony will also feature messages of hope and the performance of songs written by Mordechai Gebirtig, renowned Yiddish poet and songwriter killed in the Krakow ghetto.
Organized in partnership with the Atlantic Jewish Council, the Calgary Jewish Federation, the Canadian Museum for Human Rights, the Canadian Museum of Immigration at Pier 21, the Neuberger Holocaust Education Centre, the Segal Centre for Performing Arts, and the Vancouver Holocaust Education Centre.
Yom Hashoah, Holocaust Commemoration
Holocaust survivors invite Montrealers to participate in the Yom Hashoah commemoration to remember the victims of the Shoah, honour the survivors and consider how we can learn from the Holocaust as we look to the future. The commemoration will feature traditional readings, poems, messages of hope, songs, and survivor testimonies.
Watch testimony clips from other Holocaust survivors who participated in past Yom Hashoah commemorations, like Agnes Kent:
Yom Hashoah was declared Holocaust Memorial Day in Quebec in 1999 and in Canada in 2003.
A Toolkit to Commemoration Yom Hashoah at Home or at School
The Montreal Holocaust Museum has prepared the following toolkit so that you can commemorate Yom Hashoah with your students, in class or virtually.
The toolkit is composed of:
And Additional Resources:
Visit our Facebook page