Ghetto
Rena Schondorf
Rena Schondorf describes a selection in the Krakow ghetto.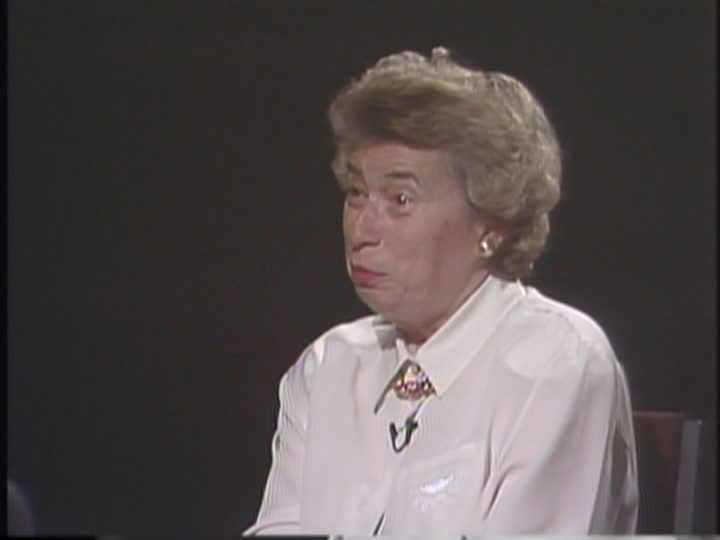 Source: McGill Living Testimonies, 1994
Rena Schondorf was born in 1929 to an assimilated middle-class family in Krakow (Poland). The German army occupied Krakow a few days after the outbreak of the war in September 1939 and a series of anti-Jewish measures were introduced. Rena who had been attending a public school was expelled because she was Jewish.
In March 1941, the Germans established a ghetto in Krakow and all the Jews had to move there. Following several waves of deportations, a large part of the ghetto was closed in the summer of 1942. Rena and her family had moved into another part of the ghetto. They all worked in different departments of the Optima factory complex. Rena mended German military sweaters and socks that were sent from the Russian front.
The ghetto was liquidated in March 1943 and Rena, her sister, Tola, their mother, Ruth, and their grandmother were transferred to the Plaszow forced labor camp on the outskirts of Krakow. Rena continued to work in the knitting department of the factory.
In the fall of 1943, Rena's sister and grandmother were deported to Skarzysko (occupied Poland), where they worked on the HASAG munitions factory. In May 1944, Rena's father was deported to Auschwitz (occupied Poland). As the Soviet army were approaching in the summer of 1944, the Germans started to liquidate the camp. Rena and Ruth were first transferred to the subcamp of Birkenau (occupied Poland), then to Bergen-Belsen (Germany). They were later deported to the Salzwedel concentration camp (Germany) where they worked in a munitions factory.
I was the only one of my friends that came back to the ghetto and none of the others did.


Rena Schondorf
They were liberated by the American Army in May 1945. They returned to Krakow and stayed there until the beginning of 1946. They learned that Tola had also survived and was in a DP camp in Linz (Austria). An uncle, who survived the war and was living in Berlin (Germany), smuggled Rena and her mother out of Poland. Rena was sent on to study in London, while Ruth stayed in Berlin. Rena traveled to England on a transport of German war brides.
In 1948, Rena joined her mother in Montreal. She married Mayer Schondorf, a fellow survivor from Slovakia in 1951. They have two children and many grandchildren.
Rena and her late husband were volunteer speakers at the Montreal Holocaust Museum for many years.