Ghetto
Hanneliese Schusheim
Hanneliese Schusheim describes life in the Riga ghetto.
Source: Sarah and Neuberger Holocaust Education Center, 1988. Editing: Montreal Holocaust Museum, 2021
Hanneliese Schusheim was born to an assimilated Jewish family in 1921 in Cologne (Germany). The Jews of Germany encountered various discriminatory measures in the 1930s, and in 1939 Hannaliese's family had to leave their apartment and move in with three other families.
The deportation of the Jews of Cologne to the East started in 1941. Hanneliese and her family were deported on the third transport, which left for the Riga ghetto in the Reichskommissariat Ostland (German-occupied Latvia) on December 7, 1941.
Hanneliese worked in the port of Riga sorting vegetables and coal and loading boats. She smuggled food into the ghetto whenever she could. Hanneliese's father Max and her brother Ernst were deported to the Salasapils concentration camp, and they returned to the ghetto in the fall of 1942. Max died at the end of 1942.
In the fall of 1943, Hanneliese, Ernst, and their mother Anna were deported to the Kaiserwald concentration camp (German-occupied Latvia). From there, Anna and Hanneliese were sent to the Riga-Spilwe forced labour camp (German-occupied Latvia) to build airport runways, while Max was transferred to a labour camp in the HKP automotive repair facility. Tragically, he was among the prisoners that the Germans executed in retaliation for sabotage activities.
In 1944, Hanneliese and Anna were transferred to the Stutthof concentration camp (occupied Poland) and later to the Thorn subcamp, where they were forced to dig anti-tank trenches. Prisoners in Thorn lived in makeshift tents and received very little food. Anna became sick and died in December 1944.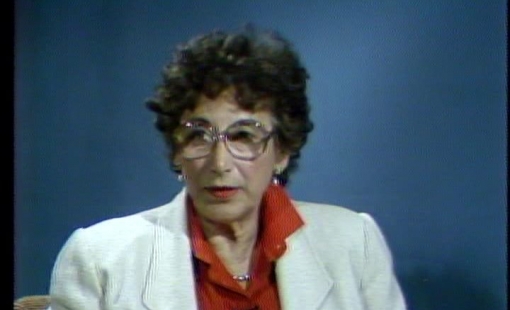 It was unbelievable the way we had to steal. But this was the only way that we could survive.


Hanneliese Schusheim
Following the advance of the Soviet army, the Thorn subcamp was dissolved in January 1945, and the prisoners were forced on a death march to the city of Bromberg. Shortly before reaching the city, the SS guards fled and the women were freed.
After liberation, Hanneliese made her way back to her hometown in May 1945. She was smuggled into Belgium with the help of her future husband in the summer of 1946. They got married in Belgium and later moved to England, where two of their three daughters were born. They immigrated to Canada in 1953 and settled in Montreal.
Discover another excerpt from the testimony of Hanneliese Schusheim about her arrival at the Riga ghetto on the Montreal Holocaust Museum's YouTube channel.