Are you a teacher? Do you want to deepen your knowledge of the Holocaust and, more broadly, genocide? Wondering how to tackle these sensitive subjects in class? Are you looking for educational resources? Register for our Teaching about the Holocaust and Genocide training seminar.
The seminar will take place on:
–  Monday, June 27 (all day), in-person at the Montreal Holocaust Museum
– Monday, July 4 (half-day), in a virtual format
The seminar is made possible by the Asper Foundation.

---
Objectives of Teaching about the Holocaust and Genocide
Throughout the seminar, you will:
– Become better equipped to teach about the Holocaust and other genocides
– Share your experiences of teaching the Holocaust and genocide with other educators
– Discover diverse resources to address these sensitive subjects in class
– Reflect on the importance of integrating the six concepts of historical thinking into your teaching approach
Program
Welcome (coffee and pastries)

Introductory remarks

Conference by Pierre Anctil

Discovery tour of the MHM's permanent exhibition + Workshop on using the Museum's resources in class

Networking lunch (meal provided)
Workshop based on the

Muguette Myers: A Childhood Under the Occupation

sound app

Field trip:
Rabbis, Writers and Radicals walking tour with the Museum of Jewish Montreal
OR
Refugee Boulevard audio walk
Reception at the Conseil des arts de Montréal:
- Cocktail reception
- Door prizes


- Presentation of the Writing Lab -

Résistances: le chemin de la création

with Théâtre Advienne que pourra


- Acknowledgements
Program details
All activities listed will take place in English, unless otherwise noted. For the French program running concurrently, click here.
Keynote address by Pierre Anctil
(in French, simultaneous translation provided)
Contextualizing the Holocaust
This lecture will attempt to situate the events related to the destruction of European Judaism, commonly called the Holocaust or the Shoah, within a broader historical and international context, especially regarding the effects of anti-Jewish persecution on Canadian society before, during and after the Second World War. Topics addressed will include Canadian migration policies during this crucial period, as well as antisemitism in Quebec during the 1930's. 
About the speaker
Pierre Anctil, professor, Department of History, University of Ottawa
His research bears on the different aspects of Canadian identity and on the emergence of a field of research specifically dealing with Canada. He is also interested in ethnicity in Canada, issues on a Quebec and national level, election results in Quebec and Canada, on the Jewish community of Canada and Montréal, and more precisely on anti-Semitism, secularism, linguistic integration and racism in Canadian society. He also specializes in Canadian Yiddish literature and culture.
Discovery Tour of the MHM's permanent exhibition
Firstly, get to know a new interactive and immersive tour experience! The discovery tour allows students to explore the objects in the exhibit and to reflect on how they contribute to illustrating the history of the Holocaust.
In each section of the museum, historical context is provided before students launch into the exploration phase, during which they work in small groups to observe and analyze the objects on display in order to understand how they illustrate the lived experience of Jewish communities. At the end of each section, a group discussion enables the tour guide to assess understanding and answer questions.
Workshops
During this workshop, you'll get to explore the Museum's wide range of virtual resources, available free of charge on our website. Participants will discuss ways of using and/or adapting these resources for use in their classes, based on the grade level and subject matter taught, as well as students' sensibilities.
Develop students' empathy by sharing Muguette Myers' moving story about her life before, during and after the Holocaust. Through our immersive audio app, students are plunged into the tumultuous past of Europe and France during the first half of the 20th century. By listening to audio excerpts that alternate between historical context and Muguette Myers' survivor testimony, students learn about the successive stages of the Holocaust in Europe and France.
By referring to the provided poster and by interacting with the app as they speak through a mic, students become actively engaged in listening to Muguette's testimony and develop their sense of empathy.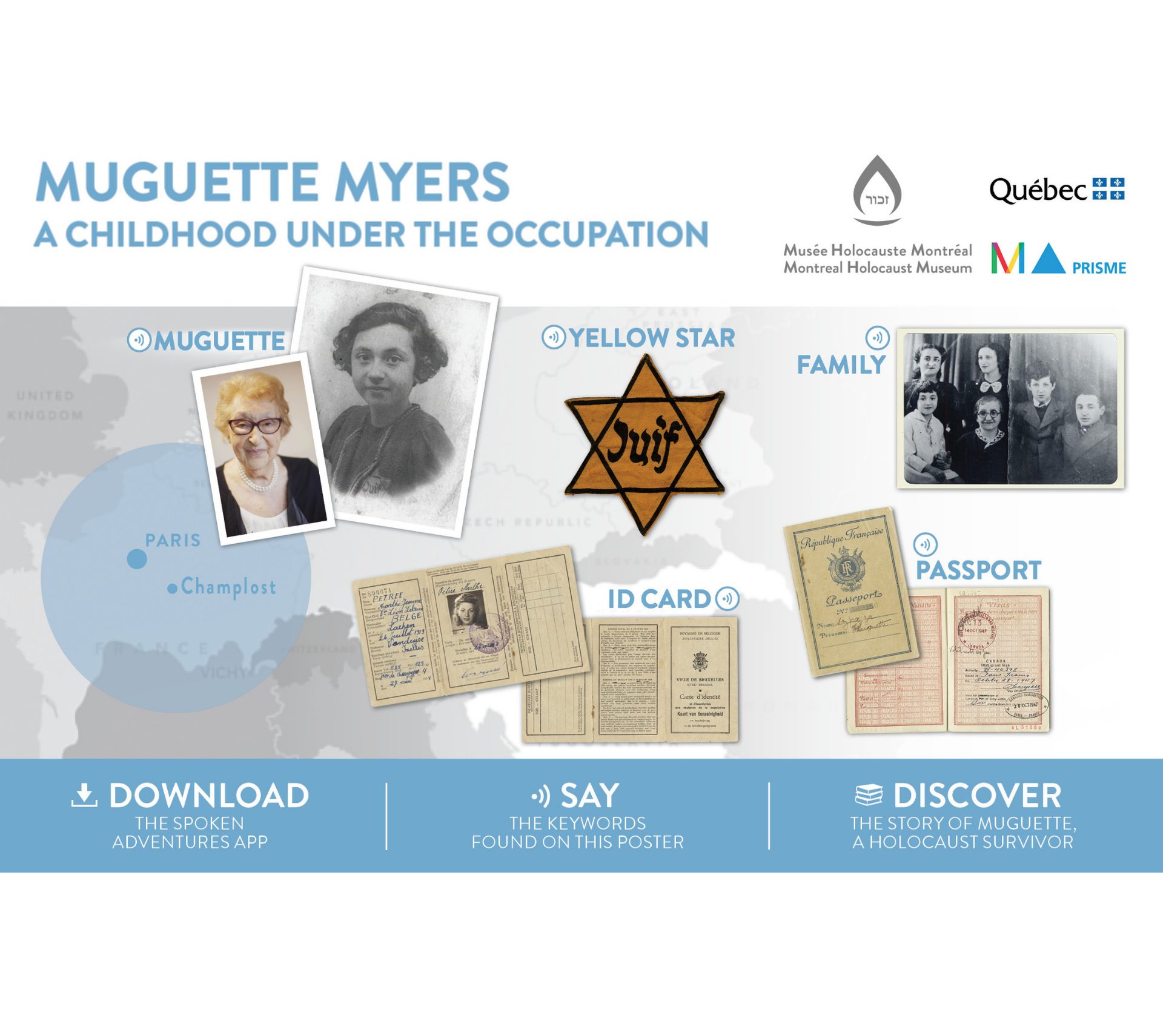 Other activities
A hub of Jewish culture in the 1920s, Mile End was home to cantors and community organizers as well as poets and politicians of all stripes. Mile End has been a centre of the Yiddish language for nearly a century, first with its left-leaning Jewish schools, libraries, and social clubs, and now with dozens of Hasidic synagogues, yeshivas, and storefronts. Our visit travels through the parks, streets, and back lanes of the neighbourhood, tracing the evolution of Montreal's literary, musical, and culinary culture and exhibiting the diversity of Jewish life in this very diverse neighbourhood.
Refugee Boulevard: Making Montreal Home after the Holocaust is a multimedia project that captures the initial experiences of child survivors who settled in the St. Urbain Ghetto, a neighbourhood known today as the Mile End or the Plateau.
A historical audio tour, based on interviews with survivors, details what it was like for these children to arrive to a new country alone or with surviving family members, build relationships, deal with adversity and discrimination, search for joy, and simply move on.This walk around the Plateau will be hosted by Nancy Rebelo, one of the project's developers who teaches in the History Department at Dawson College.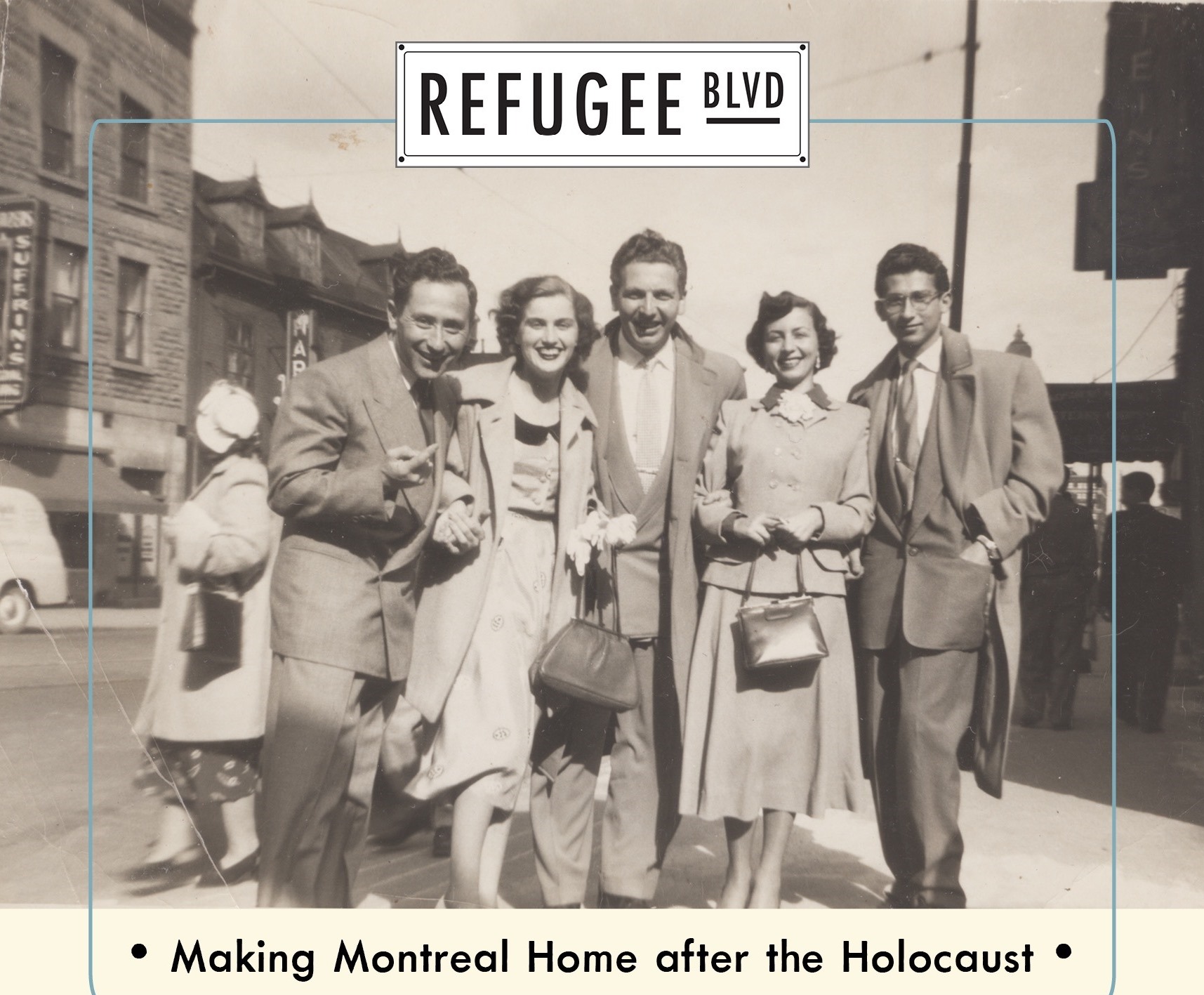 Résistances: le chemin de la création
(in French)
Théâtre Advienne que pourra presents an exploration of the writing stage of the play Résistances (working title). On the program: a presentation of the project, readings of excerpts from the work-in-progress text and a discussion surrounding the development of the work. 
This play, inspired by different historical narratives surrounding World War II and the Holocaust, is a project born from the enthusiasm of young creators to propose a different and complementary way of exploring the potential of the intersection between dramaturgy, fiction and history. This project aims to engage the audience, young and old, in a personal and historical reflection, but also a citizen's reflection: How do we remain true to ourselves when society, poisoned by hateful ideology, considers us guilty? Can we make the choice to resist, even at a young age, in troubled social contexts? What can the past tell us about our present society?
About the presenter
---
An actor, author and artist-mediator, Martin Lebrun holds a diploma in performance from the National Theatre School and a BA in Literary Studies from Université Laval. As an author, he co-wrote the script for Sherlock Holmes et le signe des Quatre (Théâtre Advienne que pourra) in 2020. In 2021, in collaboration with Andréanne Béland, he created the radio-theatre play Entretiens avec Nonor, a project that uses historical fiction to explore the theme of intergenerational memory transmission. Since 2016, he has combined his passion for literature and theatre by creating learning resources and by leading cultural mediation activities with a wide range of cultural organizations.