In honour of International Holocaust Remembrance Day, young visitors (ages 8 and up, accompanied by an adult) are invited to attend a special event with Anne Renaud, author of the children's book Fania's Heart.
The Story behind Fania's Heart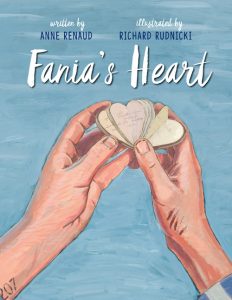 « Ten-year-old Sorale discovers a tiny heart-shaped book among her mother's belongings. Its pages are shaped like four-petaled flowers, upon which are written words in languages Sorale does not understand. Who wrote these words? Where did the heart come from? Why has her mother never mentioned this tiny book before? »
« Fania's Heart reveals the true story of the crafting of the heart, against all odds, within the confines of Auschwitz, and of the women of immeasurable resilience, courage, and loyalty who risked their lives for Sorale's mother, their friend. » (Second Story Press)
The Artefact in the Montreal Holocaust Museum
This heart-shaped booklet is a birthday card. Its cover is made of purple fabric with an "F" embroidered in orange thread, and the sheets were glued together using a mix of bread and water. The booklet's eight pages are filled with birthday wishes addressed to Fania. She received it on her 20th birthday, December 12, 1944, in Auschwitz.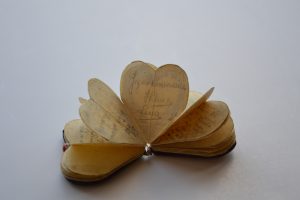 Book your free ticket