Join Montreal Holocaust Survivors and other community members to commemorate Kristallnacht, the pogrom organised by the Nazis on November 9 and 10, 1938. It marked the intensification of a regime of terror against the Jews of the Third Reich, and was met with total indifference from the international community.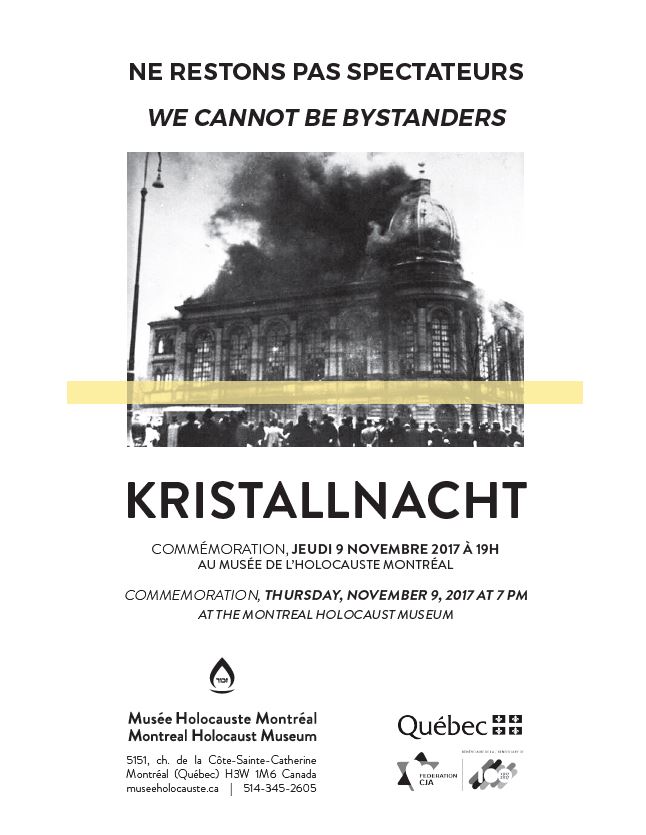 The Commemoration
The commemoration will include a discussion with the Honourable Irwin Cotler, international human rights lawyer, Founder of the Raoul Wallenberg Centre for Human Rights, Emeritus Professor of Law at McGill University, former Member of Parliament, former Minister of Justice and Attorney General of Canada.
There will also be a testimony video from a witness of Kristallnacht. Holocaust survivor, Leo Dortort will be present to light a commemorative candle in honour of the victims of the Shoah.
Kristallnacht (the Night of Broken Glass)
Kristallnacht, the Night of Broken Glass is the name given to the violent attacks (pogrom) against the businesses, places of worship and homes of the Jews throughout Germany and in the annexed countries (Austria and Sudetenland) on November 9 and 10, 1938. This violence was implemented by the Nazi leaders. The sound of broken glass heard during this attack explains the name given to the event.
Learn more about Kristallnacht and the Holocaust.
The Impact of Kristallnacht
"The events of Kristallnacht represented one of the most important turning points in National Socialist antisemitic policy. Historians have noted that after the pogrom, anti-Jewish policy was concentrated more and more concretely into the hands of the SS. Moreover, the passivity with which most German civilians responded to the violence signaled to the Nazi regime that the German public was prepared for more radical measures." (United States Holocaust Memorial Museum)
Listen to Dora Cohen's testimony on our YouTube channel:
Discover other events