On International Holocaust Remembrance Day and the 78th anniversary of the Liberation of Auschwitz, we invite you to hear the remarkable story of a survivor born in the concentration camp.
Join us at the Montreal Holocaust Museum on Thursday, January 26th at 7:00 pm to hear Holocaust survivor Angela Orosz in conversation with Canadian journalist Lisa LaFlamme.
The extraordinary conversation will touch upon Lisa and Angela's visit to Auschwitz in 2020, the resilience of survivors, and the importance of Holocaust education today.
January 26, 2023, at 7 pm in-person at the Montreal Holocaust Museum
Lisa LaFlamme in conversation with Angela Orosz
Tickets available on Eventbrite for $5
In partnership with the Raoul Wallenberg Centre for Human Rights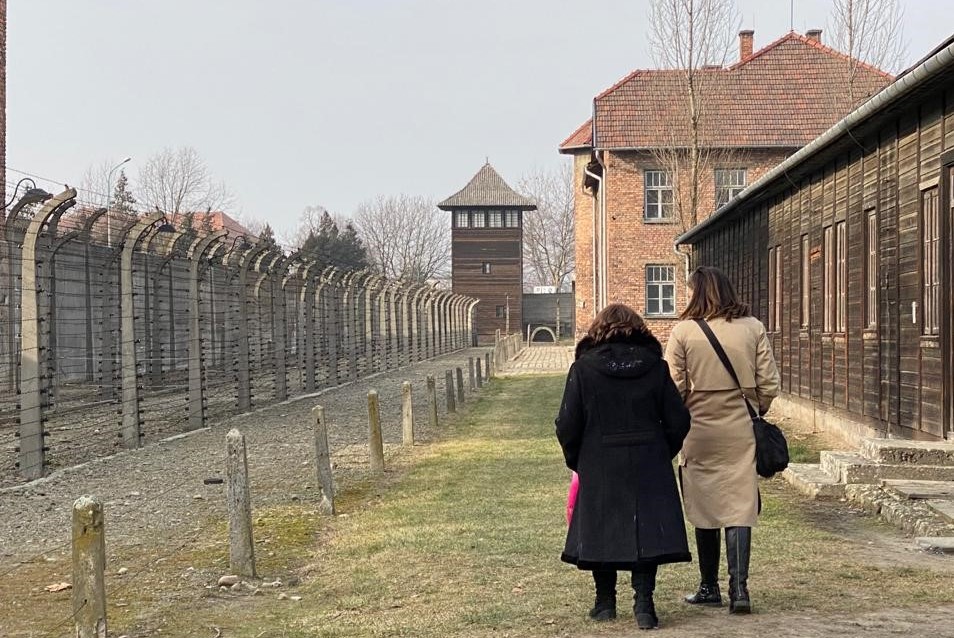 ABOUT ANGELA OROSZ
Angela Orosz was born in the Auschwitz concentration camp in December 1944. Her parents lived in Sárospatak (Hungary) until their deportation to Auschwitz. Her mother Vera was three months pregnant when they were deported in May 1944.
Josef Mengele carried out painful experiments on pregnant Vera, but the fetus survived. She delivered Angela with the help of a fellow inmate in an upper bunk of their barrack. Angela weighed two pounds and she was so weak that she did not cry. She went unnoticed until the liberation of the camp on January 27, 1945.
After liberation, Angela and her mother made their way back to Hungary. Vera married a fellow Holocaust survivor who had lost his wife and daughter during the war and he raised Angela as his own.
After his death in 1957, Angela and Vera moved to Budapest. Angela pursued her education, graduated from Teachers Training College, and became a teacher. She got married and welcomed her daughter.
Angela came to Canada in 1973, where she remarried and welcomed her son. She later settled in Montreal where she has been a volunteer Speaker at the Montreal Holocaust Museum for several years.
ABOUT LISA LAFLAMME
Lisa LaFlamme has been at the forefront of journalism for over 30 years tackling some of the biggest issues of our time, traveling the globe, delivering breaking news and bringing it back home to Canadians.
The internationally respected journalist has interviewed major newsmakers, Prime Ministers, Presidents and Princes while always keeping the spotlight on the injustices that plague the world's most oppressed.
LaFlamme has traveled to some of the world's most dangerous places and through her extensive war coverage of Iraq, Afghanistan, Democratic Republic of Congo and Ukraine has documented the reality of how conflict warps society, punishes the most vulnerable and benefits the most corrupt.
A native of Kitchener-Waterloo, in 1988, LaFlamme began her career in local radio and TV in her hometown before making the move to CTV National News in 1997. She moved from Prime Time anchor of CTV Newschannel to an Ottawa correspondent in CTV's Parliamentary bureau. In September 2001, LaFlamme became co-host of the number one morning show Canada Am. Her second day on the job, 9-11, the attacks on the World Trade Centre pulled her out of the studio once again to report from New York City, the United Nations, the Pentagon and ultimately Iraq and Afghanistan.
As Chief Anchor and Senior Editor of CTV National News for almost 12 years, LaFlamme led the country's number one newscast and cemented her role as the face of news in Canada. LaFlamme has reported extensively on the humanitarian crisis facing the Afghan people and has worked intensively on helping Afghan women and girls under threat by the Taliban.
The veteran journalist is the recipient of 12 Canadian Screen Awards, consecutive RTDNA awards as well as a Lifetime Achievement Award for broadcasting and journalism. Over her career she has received numerous honorary doctorates. She is the recipient of the Order of Ontario and in June 2019, was named Officer of the Order of Canada (O.C.), one of the country's highest honours.
A passionate advocate of democracy in journalism, LaFlamme volunteers for Journalists for Human Rights (JHR) and has traveled with the organization to the Democratic Republic of Congo to mentor young journalists in Goma, in the heart of the conflict zone. She serves as honorary co-chair of the annual JHR Night for Rights. Lisa is also an ambassador for Plan International and volunteers for Canadian Women for Women in Afghanistan.
Reserve your ticket on Eventbrite