Join our group for teachers on Facebook where we share free pedagogical tools, exclusive educational news, relevant articles and discussions about tips and challenges in teaching about the Holocaust.
As our mission states, the Montreal Holocaust Museum educates people of all ages and backgrounds about the Holocaust, while sensitizing the public to the universal perils of antisemitism, racism, hatred and indifference. Therefore, teaching the history of the Holocaust and human rights is a crucial aspect of our programming.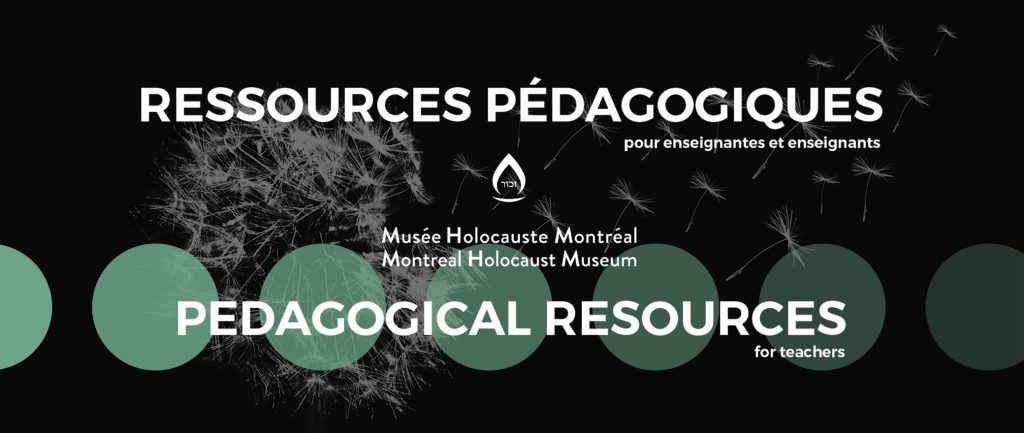 Purpose of our group for teachers
To share our educational resources and exclusive offers
To encourage networking among teachers to overcome common challenges when teaching about the Holocaust and human rights
To offer a private platform where teachers can share resources, tools and ideas. If you share your lesson plans or tips, only members of the group will have access!
Moderation policy and rules of conduct
We ask that you kindly read and respect the web etiquette before sharing content. All publications will be moderated by the Museum, meaning they will be approved by a member of our team before being visible in your news feed. Posts sent by members will be approved and published only on weekdays. Any form of advertising will be rejected.
We appreciate and answer honest questions about the complexity of the Holocaust history, but messages that disseminate misleading or historically inaccurate information will be removed. If you violate the rules of conduct, your content will be rejected and your account may be suspended or blocked. The Montreal Holocaust Museum reserves the right at any time not to open a forum for a given subject, to close a forum without notice and to refuse to publish any content. The Montreal Holocaust Museum reserves the right to change the web etiquette at any time without notice.
Rules of Conduct in group for teachers
The group for teachers on Facebook is a space for sharing and dialogue with and between teachers. Thus, we are happy to receive your comments and contributions of all kinds (photos, links, comments, articles) provided that they are relevant to the Museum's mission and that they respect the following rules:
Be careful not to stray from the subject and avoid publishing the same content repeatedly.
Be as courteous and respectful as if you were talking to someone face to face.
When sharing content, be sure to provide an explanation or context in order to make your point.
Any copyright infringement is prohibited (including copying excerpts from other sites without permission and without citing sources).
It is prohibited to publish offensive content that may expose a person or group of persons to hatred or contempt for reasons of race, origin, color, religion, sex, sexual orientation, age, or physical or mental disability.
Your content will be rejected if it contains any of the following:
Shocking or violent content;
Unlawful material (eg contravening a court order);
Hateful remarks;
Threats or harassment;
Personal attacks, insults or defamatory content;
Threat or incitement to commit a criminal offense;
Attempts to mobilize the population for any cause other than an event related to the Museum's mandate.
Respect the privacy of others by not including in your content any personal information (such as a phone number or email address) or private conversation.
Be restrained in your comments regarding the death or injury of individuals or victims of genocide.
Your content must be personal in nature, not commercial in nature. Avoid sharing commercial promotions, press releases and petitions.
Please express yourself in French or English when you participate in discussions or make comments.
Thank you for your participation, and we look forward to hearing from you!
Join the Group