Join us as we launch of the final section of the United Against Genocide exhibit. This concluding section highlights concrete actions that can be taken in the face of current mass atrocities in Burundi, Myanmar, Northern Iraq and South Sudan.
The event will include a discussion about genocide prevention with: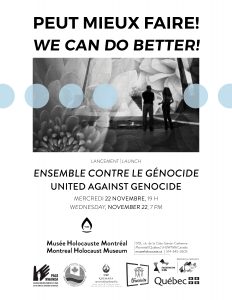 Genocide Prevention Today
This launch event will give participants the unique opportunity to see some of the artifacts featured in the United Against Genocide exhibit, and to learn more about the exhibit's final section which examines the concept of prevention.
In its whole, the exhibit highlights the fact that genocide is a preventable crime. By understanding this phenomena we can, and we must, take steps to prevent it. The final part of the exhibit looks at individual and civil society measures to raise awareness, inspire action and encourage governments protect those in danger.
The Current Situation in Myanmar
Presentations at the launch event will focus on the current situation in Myanmar, and what governments and individuals can do to intervene. The expertise of representatives of Amnistie internationale Canada francophone and the Rohingya Association of Canada will help highlight what can be done locally within Canada.
Visit the virtual exhibit