The Montreal Holocaust Museum, in collaboration with the JPL, presents an online event sponsored by The Anita and Rony Gabbay Foundation. This event will feature Meriel Schindler in conversation with Shelley Pomerance about her novel "The Lost Café Schindler: One Family, Two Wars, And The Search For Truth".
Sunday, May 1st, 2022.  2:00 pm EST
Discussion in English
Entry price: $10 on Eventbrite
Summary of The Lost Café Schindler
The Lost Café Schindler is a family memoir that reads like a detective story. When Meriel's father, Kurt Schindler, died in 2017, she embarked on a fascinating journey in her family's illustrious relations, from Franz Kafka to Oskar Schindler to Dr. Bloch. Meriel's family business, the Café Schindler in Innsbruck, witnessed  the tumultuous history of the twentieth century. Through the story of the café, the book depicts how an ordinary family survived extraordinary times and offers readers a profound reflection on memory, truth, trauma, and the importance of cake. This acclaimed book is a beautiful melding of the personal and the political and tells the story of a lost world.
Slides backdrop illustrates the conversation with Shelley Pomerance, arts journalist and host-interviewer.
Meriel Schindler is an author and employment lawyer. She is a partner in the law firm Withers LLP in London, where she is head of the employment team. Meriel lives in London and is married to Jeremy, and they have and have three adult children. This is her first book.
In collaboration with the Honorary Consulate General of Austria in Montreal, The German Consulate in Montreal and the Goethe-Institut Montreal. Sponsored also by The Jewish Book Council.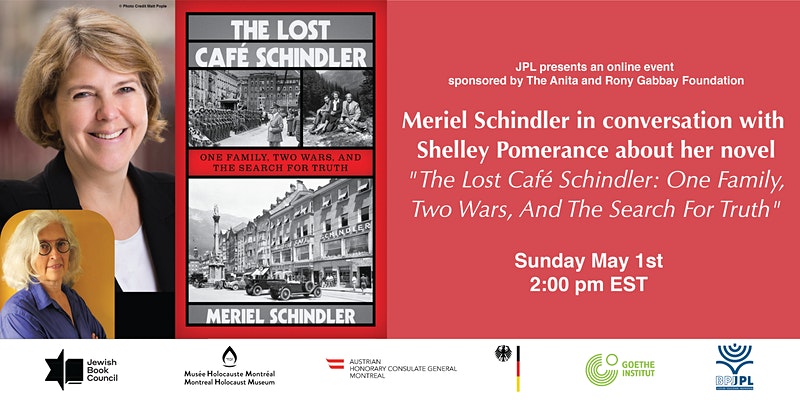 Buy your ticket on Eventbrite