Meet Judy Batalion, author of the novel The Light Of Days: The Untold Story of Women Resistance Fighters in Hitler's Ghettos during this virtual event organized by the Jewish Public Library and the Montreal Holocaust Museum.
Monday, April 26, 2021 at 7:30 p.m
Conversation in English
Buy your ticket (10$) on Eventbrite
In 2007, Judy was researching strong Jewish women at the British Library when she came across a dusty old Yiddish book. Titled Freuen in di Ghettos, the book was about "ghetto girls" who hid guns in teddy bears, bribed Nazis with whiskey and pastries, and blew up German supply trains. This Yiddish thriller became the inspiration for The Light Of Days. (Judy Batalion) In this talk, Judy will relay several of these women's stories, describe her years of research into the history of Polish-Jewish resistance, and discuss why so many of these tales remained hidden for so long.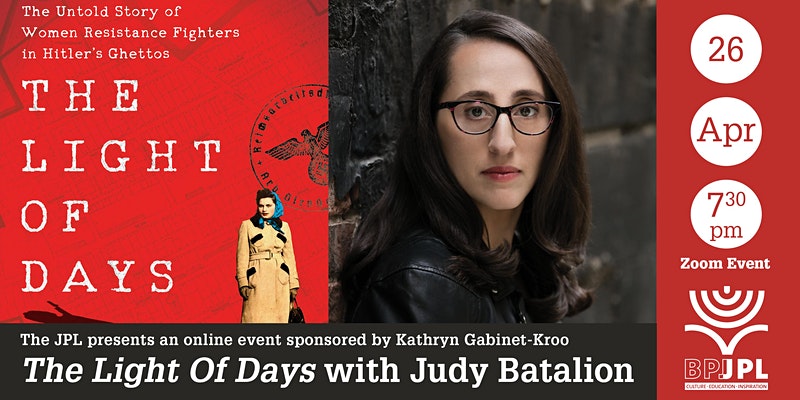 About the Author
Judy Batalion was born and raised in Montreal, where she learned French, Yiddish and Hebrew. The themes she addresses in her writing include family relationships, generational transmission of trauma and activism. Author of the novel White Walls: A Memoir About Motherhood, Daughterhood and the Mess in Between, Judy has also written for various publications such as the New York Times, the Washington Post, Vogue, Forward, Salon, the Jerusalem Post and many more. (Judy Batalion)
Buy your ticket on Eventbrite