On November 20th from 2-4 PM, join the Montreal Holocaust Museum, the Jewish Public Library's Youth Space, and Scholastic for the book launch of "The Brass Charm" by Monique Polak.
Event in English and open to families
2-4 PM in-person at the Montreal Holocaust Museum
Reserve your free ticket online here
About "The Brass Charm"
A young girl's grandmother gives her a brass charm, and passes along a story of hope and kindness during an unimaginable time.
Tali is staying at her Oma's apartment after a storm demolishes their house. She is upset at losing everything. "People have survived worse," says her mother — Oma survived World War II, and never speaks of it. But that night, Oma shares her story of Holocaust survival, the brass monkey charm that she was given in the camp, and a message of kindness and perseverance in the face of disaster.
This book includes an author's note, in which Monique Polak explains how it was inspired by her mother's true experience at Terezin, a Nazi concentration camp in what is now the Czech Republic. (More info)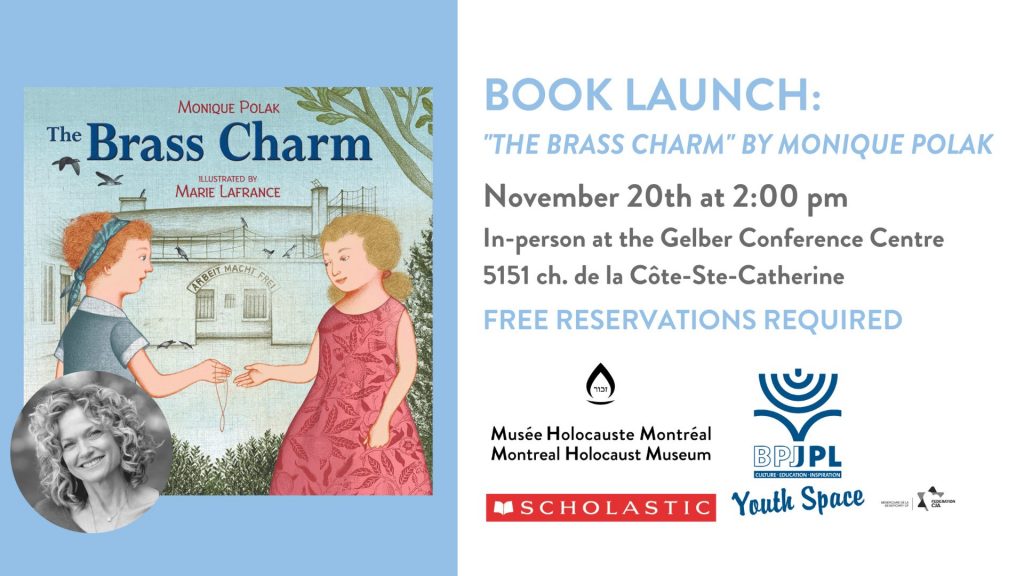 About the author Monique Polak
Monique taught English and Humanities at Marianopolis College in Montreal for 35 years. She is a freelance journalist whose work has appeared in The Montreal Gazette and in Postmedia newspapers across the country. In 2016, Monique was the CBC/Quebec Writers' Federation inaugural writer-in-residence. Monique has also been published in Maclean's Magazine. But what Monique likes to do most of all is write for young people. She is the author of 32 books. (More info)
Copies of "The Brass Charm" will be sold on-site thanks to Babar Books.
Reserve your ticket