Attend a discussion with Professor David Fishman about his most recent publication, The Book Smugglers: Partisans, Poets, and the Race to Save Jewish Treasures from the Nazis.
Discussion with David Fishman
Tuesday, November 13th at 7:30 pm
This book tells the incredible true story of Vilna ghetto residents who rescued thousands of rare books and manuscripts from the Nazis and the Soviets.
The Book Smugglers
"The Book Smugglers is the nearly unbelievable story of ghetto residents who rescued thousands of rare books and manuscripts—first from the Nazis and then from the Soviets—by hiding them on their bodies, burying them in bunkers, and smuggling them across borders. Based on Jewish, German, and Soviet documents, including diaries, letters, memoirs, and the author's interviews with several of the story's participants, The Book Smugglers chronicles the daring activities of a group of poets turned partisans and scholars turned smugglers in Vilna, 'The Jerusalem of Lithuania.' " (University Press of New England)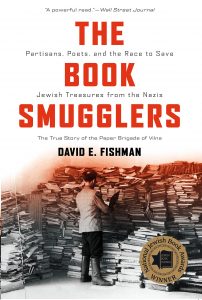 Winner of the National Jewish Book Award, Holocaust category (2017)
"The immediate and unfiltered personal stories of the book smugglers make for a powerful read. They convey the timeless message that, even in the most extreme circumstances, we still have a choice, however minimal, about how to respond to existential threats."— Gerald J. Steinacher, The Wall Street Journal
"[A] gripping narrative. . . . Fishman narrates his story with verve and considerable literary skill, practising narrative history in the literal sense."—Anna Katharina Schaffner, Times Literary Supplement (UK)
David Fishman
"David E. Fishman is a professor of Jewish History at The Jewish Theological Seminary, teaching courses in modern Jewish history. He is the author of numerous books and articles on the history and culture of East European Jewry. For 15 years (1988–2003), Dr. Fishman was editor in chief of YIVO-Bleter, the Yiddish-language scholarly journal of the YIVO Institute for Jewish Research. He is a member of the Academic Committee of the United States Holocaust Memorial Museum, and serves on the editorial boards of Jewish Social Studies and Polin. (JTS)
This event is organized in partnership with the Jewish Public Library and the Department of Jewish Studies at McGill University and made possible by the Yentl Rubin and Mordko Fishman Memorial Endowment Fund.
General admission $15, members of the Jewish Public Library and students $10. Please contact the Jewish Public Library at 514.345.6416 to reserve your ticket.
Reserve your ticket