In celebration of Jewish Disability Awareness and Inclusion Month (JDAIM), the Montreal Holocaust Museum is organizing a sensory-friendly visit on February 3, 2019.
Sensory-friendly visit of the Museum's permanent exhibition
45-minute French tour offered at 9:00 am (10 people maximum)
45-minute English tour offered at 9:15 am (10 people maximum)
Reservations are required. Reserve your spot by contacting info@museeholocauste.ca
Sensory-Friendly Tour of the Museum
We'll be opening the Museum early to offer small guided tours of permanent exhibit on February 3, 2019.
In preparation of your tour, click here to view a sensory map of the permanent exhibit. The following map will allow you to identify various elements of our permanent exhibit including benches, quiet areas, the elevator, washrooms, emergency exits and other important details.
Everyone is welcome at the Museum, and if you have any service needs or questions, please do not hesitate to contact us at info@museeholocauste.ca
What is JDAIM?
February has been designated as Jewish Disability Awareness and Inclusion Month (JDAIM), to support the meaningful inclusion of persons living with disabilities and their families in every aspect of Jewish life.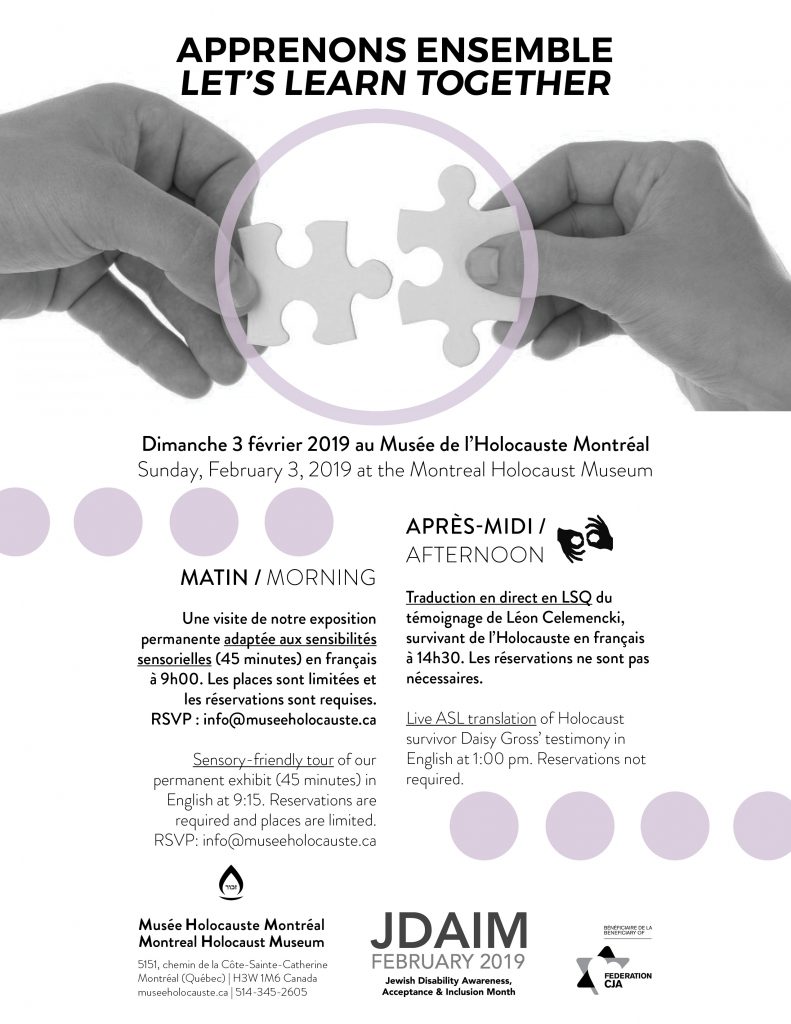 Accessibility
The Montreal Holocaust Museum is wheelchair-accessible. The entry to the building (on chemin de la Côte-Ste-Catherine) has an access ramp and the Museum is equipped with an elevator to facilitate access to both floors of the exhibition. While the Museum does not offer reserved parking, there is free parking available on adjacent streets.
Reserve your spot on a sensory-friendly tour by contacting info@museeholocauste.ca
Learn more about our permanent exhibit