The Legacy of the Heart from Auschwitz
Join the Montreal Holocaust Museum in commemorating the legacy of Kristallnacht, the pogrom organized by the Nazis on November 9 and 10, 1938. In the years that followed this violent pogrom, millions of Jews became the targets of further persecution and genocide.
On the 84th anniversary of Kristallnacht, learn about two women whose lives were forever changed in its aftermath: Zlatka Pitluk and Fania Fainer, the women behind the remarkable object known as the Heart from Auschwitz. Through the stories of their descendants, Sandy Fainer, Karina Feler, and Paul Pitluk, we invite you to learn more about their resilience building new lives and the lessons transmitted to their loved ones.
Wednesday, November 9, 2022, at 7 pm
In-person at the Montreal Holocaust Museum
The Heart from Auschwitz
This heart-shaped booklet is a birthday card made at tremendous risk by Zlatka Pitluk for Fania Fainer's 20th birthday in 1944 in Auschwitz. Its cover is made of purple fabric with an "F" embroidered in orange thread, and the sheets were glued together using a mix of bread and water. Today, it is one of the most precious objects on display at the Montreal Holocaust Museum.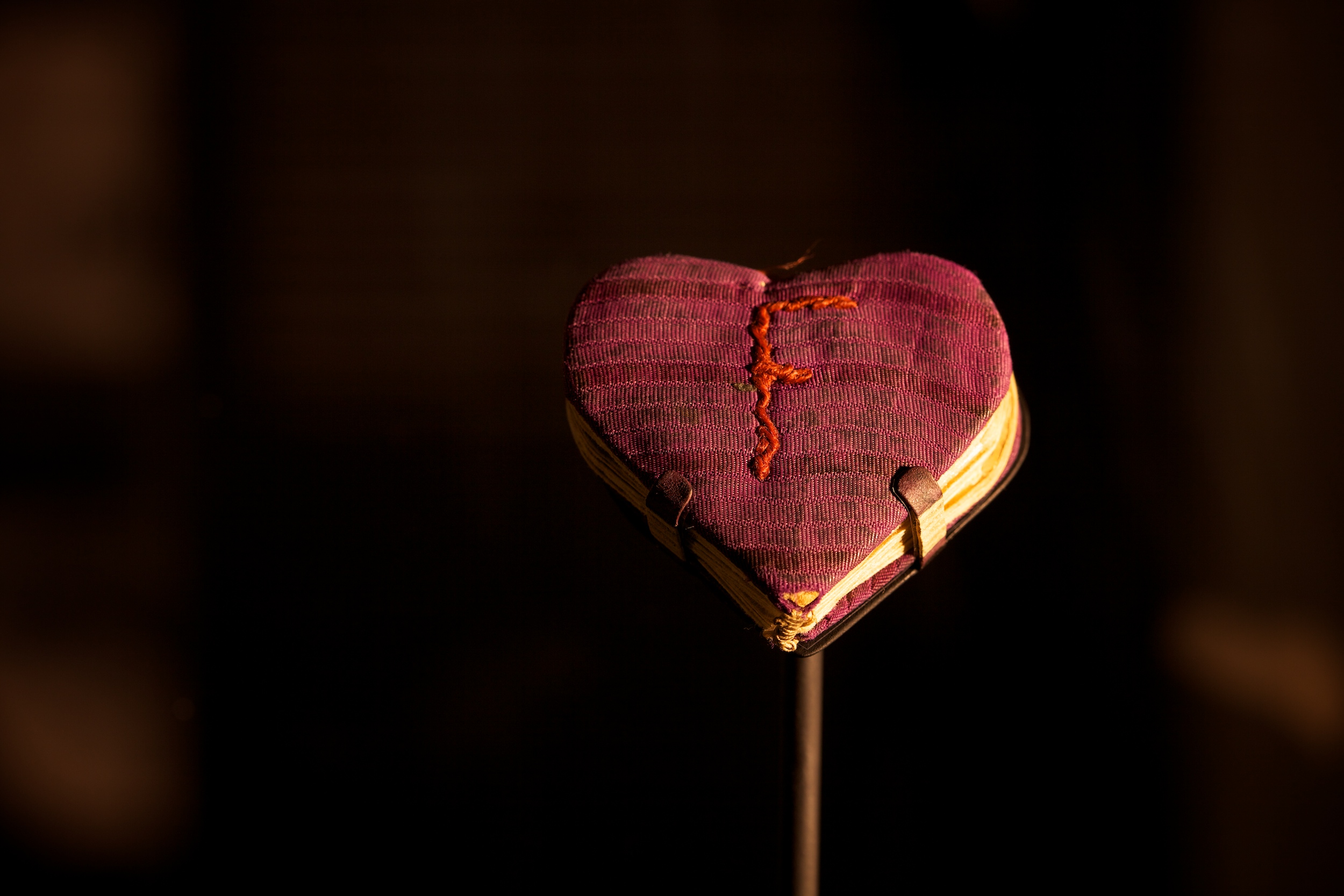 This booklet was made by Zlatka Pitluk (born Snajderhauz) with materials found in the camp. She passed it on to eighteen other women imprisoned in Auschwitz: Hanka, Mania, Mazal, Hanka W., Berta, Fela, Mala, Ruth, Helene (Lena), Rachela, Eva Pany, Bronia, Cesia, Irena, Mina, Tonia, Gusia (Guta), et Giza. They wrote wishes and messages of hope in Polish, Hebrew, German, and French. This was an act of resistance, for which the women would have faced beating or death.
Kristallnacht (the Night of Broken Glass)
The Night of Broken Glass is the name given to the violent attacks (pogrom) against the businesses, places of worship and homes of the Jews throughout Germany and in the annexed countries (Austria and Sudetenland) on November 9 and 10, 1938. This violence was implemented by the Nazi leaders. The sound of broken glass heard during this attack explains the name given to the event.
Learn more about this pogrom and the Holocaust.
The Impact of Kristallnacht
"The events of Kristallnacht represented one of the most important turning points in National Socialist antisemitic policy. Historians have noted that after the pogrom, anti-Jewish policy was concentrated more and more concretely into the hands of the SS. Moreover, the passivity with which most German civilians responded to the violence signaled to the Nazi regime that the German public was prepared for more radical measures." (United States Holocaust Memorial Museum)
Listen to Dora Cohen's testimony on our YouTube channel:
Join our commemoration