Join Tali Nates (Johannesburg Holocaust & Genocide Center), Dr. Michael Berenbaum (Sigi Ziering Institute), and Alice Herscovitch (Montreal Holocaust Museum) in conversation about Holocaust museums of the future.
2pm Eastern, Thursday, October 20th
On Zoom
Event in English and in partnership with Liberation 75.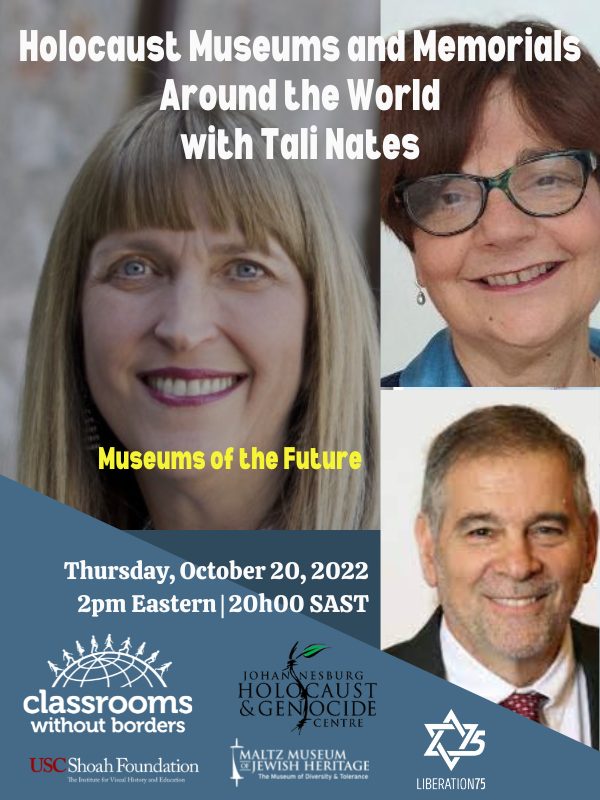 Event description
"Classrooms Without Borders, in coordination with Tali Nates, Founder and Director of the Johannesburg Genocide & Holocaust Centre, and in partnership with the Maltz Museum of Jewish Heritage, Liberation75, and the USC Shoah Foundation is pleased to embark on this new innovative Museums and Memorial series where we will highlight different angles of complex memory; grappling with the the challenges faced in defining representation of both Lived Memory and Historical Memory.
Alongside CWB Scholars we will travel with Museum historians, experts, and contemporary witnesses to 10 different regions. We will explore the history behind the exhibits, discuss the nature of memory and memorials, and discover how the world remembers the Shoah and honors the lives we lost. We will also explore how that memory is interconnected to genocides, both past and present. Our experts will challenge us to grapple with issues of cultural identity, responsibility to community, and decision-making, as well as ways in which individuals and nations responded, or failed to respond, to the crisis through close examination of the Museum's artifacts and memorials.
Our October Event in this Series: Museums of the Future" (Classrooms Without Borders).
Register for this event