On the 80th anniversary of the Vél' d'Hiv Roundup, join us at the Museum to hear the testimony of Holocaust survivor Georgette Brinberg.
Sunday, July 17 at 1:30 pm at the Museum
Testimony of Holocaust survivor Georgette Brinberg
Event in French
Please note that our permanent exhibition will unfortunately be closed on Sunday, July 17.
The Vélodrome d'Hiver roundup was the largest French deportation of Jews during the Holocaust. It took place in Paris on July 16–17, 1942.
About Georgette
Born in France to Polish-Jewish parents, Georgette Brinberg was only four years old when the French police arrested her, along with her mother and sister, during the Vélodrome d'Hiver roundup. The family was held in horrible, unsanitary conditions and they were given little food or water. When the police separated the children from the parents, Georgette's mother was separated from her daughters and would never see them again. Attend this event to hear Georgette's testimony as she explains how she and her sister survived the Holocaust.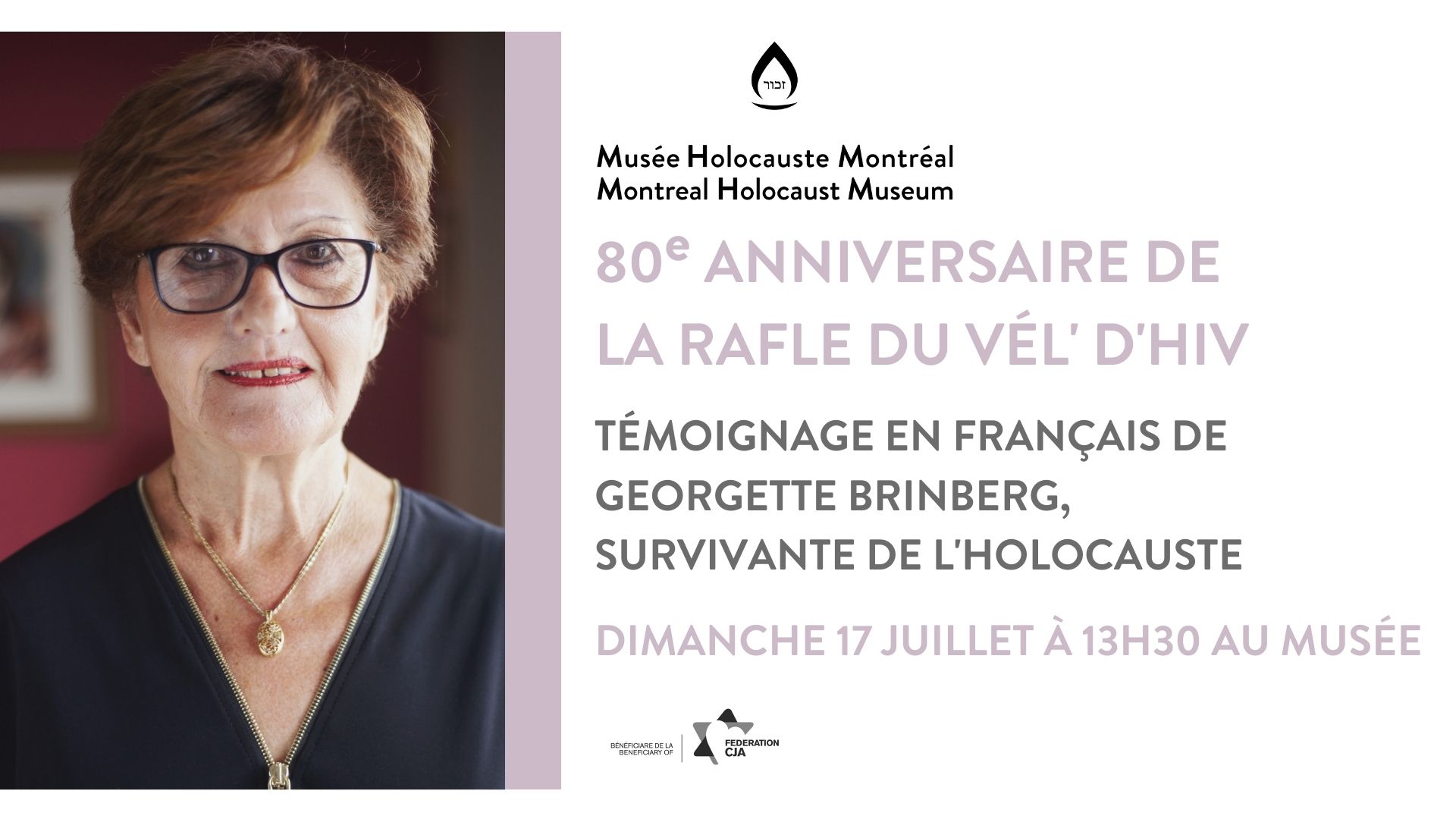 About the Vél' d'Hiv Roundup
At dawn on the 16th of July 1942, some 4,500 French policemen began a mass arrest of foreign Jews living in Paris, at the behest of the German authorities. Over 11,000 Jews were arrested on the same day, and confined to the Winter Stadium, or Vélodrome d'Hiver, known as the Vél' d'Hiv, in Paris. The detainees were kept in extremely crowded conditions, almost without water, food, and sanitary facilities. Within a week the number of Jews held in the Vél' d'Hiv had reached 13,000, among them more than 4,000 children.
In the week following the arrests, the Jews were taken to the camps of Pithiviers and Beaune-la-Rolande in the Loiret region south of Paris, and to Drancy, near Paris. At the end of July and the beginning of August, the Jews who were detained in these camps were separated from their children and deported. Most of the deportees were sent to Auschwitz and murdered. More than 3,000 babies and children were left alone in Pithiviers and Beaune-la-Rolande. At the end of August and during the month of September these children were deported alone, among adult strangers, in sealed railway wagons, to Auschwitz, where they were murdered. (Yad Vashem)
Click « I'm going » on Facebook