January 27, 2020 marks the 75th anniversary of the liberation of Auschwitz. In honour of this important anniversary, join us for a special event with Holocaust survivor and 2019 winner of CBC's Canada Reads competition, Max Eisen and Canadian journalist, media personality and fashion entrepreneur, Jeanne Beker.
January 27, 2020 at 7 pm at the Museum
Max Eisen in conversation with Jeanne Beker
Tickets available on Eventbrite for $5
Dr. Max Eisen, Holocaust Survivor and Author of By Chance Alone
Max was born in Moldava, Czechoslovakia. When he was ten years old, Hungary occupied Slovakia, and in 1944 his family was deported to Auschwitz-Birkenau where most of them were immediately murdered in gas chambers. Max, his father and uncle worked as slave labourers. Two months later, his father and uncle were selected for experiments, never to be seen again. Max managed to survive the death march in January 1945 to Mauthausen, Melk and Ebensee. He was liberated by the American 761st Black Panther Tank Battalion on May 6, 1945. He later returned to Czechoslovakia where he spent 3 years in an orphanage.
Max arrived in Quebec City in October 1949 and eventually settled in Toronto where he lives today. Max has dedicated decades of his life to Holocaust education. He has returned to Auschwitz-Birkenau numerous times with thousands of students, notably through March of the Living.
Max's memoir, By Chance Alone was published in 2016 by HarperCollins. It was the 2019 Winner of CBC's Canada Reads prize as well as the 2016 finalist for the RBC Taylor Prize for Non-Fiction.
Jeanne Beker, Canadian journalist, Media Personality, and Fashion Entrepreneur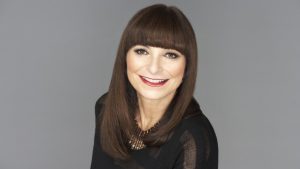 Having started her professional show biz career at the age of 16, Jeanne Beker studied acting in New York and mime in Paris before moving to St. John's Newfoundland in 1975 to cover arts for CBC radio. Three years later, she landed a job at Toronto's CHUM radio, and in 1979, helped launch the ground-breaking series, The New Music, on CITY TV, which she co-hosted for 6 years.  A founding member of MuchMusic, Jeanne continued to trail blaze and in 1985, launched the legendary Fashion Television, which she presented in over 130 countries for 27 years. 
A seasoned newspaper columnist and features writer, Jeanne was editor-in-chief of FQ and SIR magazines from 2003 to 2008, has authored five books and is a frequent keynote speaker and guest on myriad lifestyle shows.  She's been at the creative helm of numerous fashion lines under her own eponymous label, and since 2015, has been Style Editor for The Shopping Channel, where she currently hosts the series "Style Matters".
Active with several charitable organizations, she has received honorary doctorates from St. Mary's University and OCAD University, and is the recipient of numerous awards, including a Special Achievement Award from the Canadian Academy of Cinema and Television and a Crystal Award from Toronto Women in Film and Television.  Jeanne was inducted into the American Marketing Association's Hall of Legends in 2015 and received a star on Canada's Walk of Fame in 2016.  In 2014, she was named to the Order of Canada.
Jeanne is the daughter of Holocaust survivors, Bronia and Joseph Beker, whose memoir Joy Runs Deeper is published with the Azrieli Foundation.
Buy your tickets