(Événement en anglais seulement) Join us for a unique presentation by author Philippe Sands and pianist Guillaume de Chassy. Sands, an international human rights lawyer and professor, will speak about his award-winning book, East West Street: On the Origins of "Genocide" and "Crimes Against Humanity".
Presentation from Philippe Sands and Guillaume de Chassy
Tuesday, October 16 at 7:30 pm
The evening will include the author's personal exploration of the origins of modern justice, interspersed with images and musical excerpts by Bach, Beethoven, Rachmaninov, Misraki and Leonard Cohen, interpreted by Guillaume de Chassy (piano).
East West Street
"East West Street looks at the personal and intellectual evolution of the two men who simultaneously originated the ideas of "genocide" and "crimes against humanity," both of whom, not knowing the other, studied at the same university with the same professors, in a city little known today that was a major cultural center of Europe, "the little Paris of Ukraine," a city variously called Lemberg, Lwów, Lvov, or Lviv. It is also a spellbinding family memoir, as the author traces the mysterious story of his grandfather, as he maneuvered through Europe in the face of Nazi atrocities." (Penguin Random House)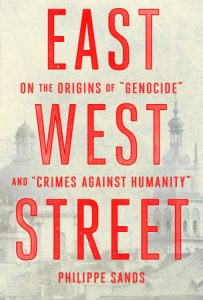 "A rare and unusual event: a book about international law that makes you want to keep reading." —Cullen Murphy, Vanity Fair
"A monumental achievement . . . a profoundly personal account of the origins of crimes against humanity and genocide, told with love, anger and precision." —John le Carré
"Sands is a fine writer and sets his scenes so compellingly and earnestly that his enterprise succeeds. . . . Engrossing, luminous and moving." —Samuel Moyn, The Wall Street Journal
Philippe Sands
"Philippe Sands is Professor of Law and Director of the Centre on International Courts and Tribunals in the Faculty of Laws at University College London. He is a regular commentator on the BBC and CNN and writes frequently for leading newspapers. As a practicing barrister he has extensive experience litigating cases before the International Court of Justice, the International Tribunal for the Law of the Sea, the International Center for the Settlement of Investment Disputes, and the European Court of Justice. He frequently advises governments, international organisations, NGOs and the private sector on aspects of international law." (UCL)
This event is organized in partnership with the Jewish Public Library and made possible by the Paul and Babey Trepman Memorial Fund.
General admission $15, members of the Jewish Public Library and students $10. Please contact the Jewish Public Library at 514.345.6416 to reserve your ticket.