The Montreal Holocaust Museum, in partnership with the Friends of Simon Wiesenthal Centre invites you to a virtual program with author Tim Brady to chat about his newly-released book, Three Ordinary Girls, about Dutch resistance fighters Hannie Schaft and sisters Truus and Freddie Oversteegen. The program will be a simple one-hour presentation. Tim will present for the first 30 minutes followed by a remaining 30 minute Q & A with the audience.
Meet and greet Tim Brady, author of Three Ordinary Girls
Thursday, March 18th at 7 p.m.
To register, contact mmikel@fswc.ca.
Three Ordinary Girls
Truus Oversteegen, her younger sister Freddie, and their friend Hannie Schaft, came of age during a tumultuous moment in 1930s Europe. In their medieval home city of Haarlem, just a bicycle ride west of Amsterdam, there were mass protests, communist party meetings, and whispers that the Queen's son-in-law had secret ties to the Nazi party. They were just teenagers when the commander of The Dutch Royal Army surrendered to the Nazis. Overnight, nine million Netherlanders were suddenly under the heel of the Reichstag boot. As the Dutch government slowly began to pen in the entire Jewish community and force them indoors, along with the requisite yellow star signifying Juden, so the girls were compelled to become involved in The Resistance.
As Anne Frank and her family were just going into hiding only miles away in Amsterdam, the girls started with simple acts of covert illegality: lifting German ID cards to counterfeit them; distributing fliers announcing strikes, passing out anti-Nazi literature. With each initiative, the danger became more pronounced, the stakes higher. They quickly developed a reputation as intrepid activists. Soon they were called on for bigger, deadlier jobs: Ferrying Jewish children to safeguard locations. Stockpiling weapons. Detonating bombs. Intelligence-gathering. Spying. Sabotage. Murder.
With each assignment, they became an integral part of the Dutch resistance. But it was not without peril, heartache, suffering, or loss. Their sacrifices and heroism have been recognized and memorialized by the Dutch government, and their stories have been told in countless articles, documentaries, books, and films. As the Nazis began to systematically roll out their "Final Solution", the Allies began to hammer away at German strongholds, and Dutch collaborators worked to undermine resistance efforts, these three ordinary Dutch girls would repeatedly perform selfless acts of courage and defiance that were nothing short of extraordinary.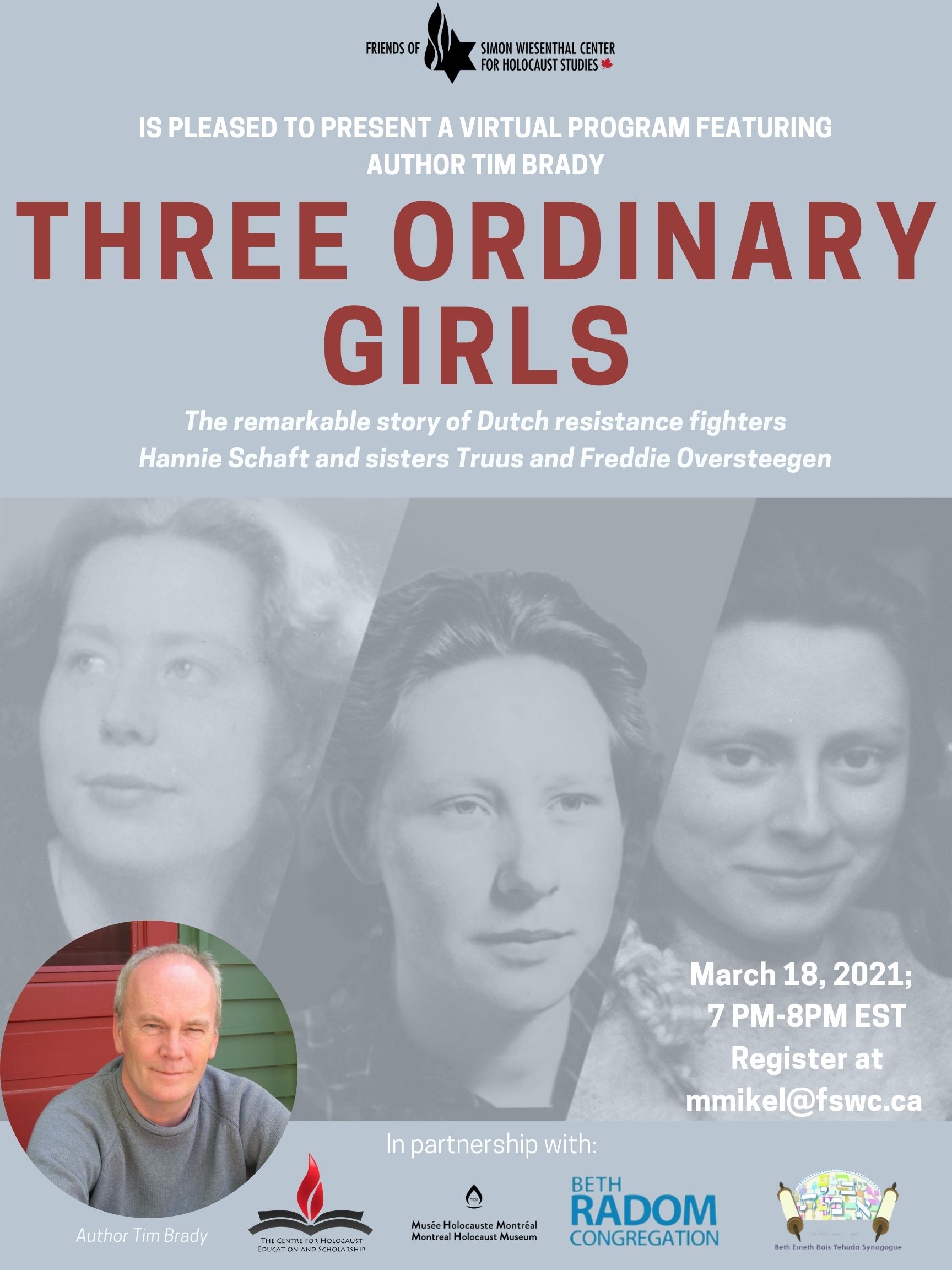 About the author
Tim Brady is the author of several highly praised and researched works of nonfiction and history, including HIS FATHER'S SON: The Life of Theodore Roosevelt, Jr. (Penguin Random House); A DEATH IN SAN PIETRO: Ernie Pyle, John Huston and the Fight for Purple Heart Valley (Da Capo); and TWELVE DESPERATE MILES: The Epic WWII Voyage of the S.S. Contessa Crown). Brady helped to develop the Peabody Award-winning series, Liberty! The American Revolution for PBS and co-wrote Minnesota: A History of the Land, which won a Regional Emmy for Documentary writing.
Brady is a graduate of the University of Wisconsin (B.A. History, 1979) and the University of Iowa Writers' Workshop (M.F.A. Fiction writing, 1983). For years he has written on the history of the University of Minnesota for the U of M's Alumni Magazine Minnesota. He also writes for the University of Wisconsin alumni magazine, the U.S. Naval Academy alumni magazine, as well as for Macalester and Carleton Colleges.