Attend the screening of the Danish film, Across the Waters, and discover the story of one family's treacherous escape to Sweden in October 1943. Across the Waters (film in Danish with English subtitles) is inspired by the true story of the director's grandfather, who helped sail Danish Jews to Sweden during the Holocaust.

The Flight of Danish Jews
"Inspired by actual events, Across the Waters follows a Jewish family – Arne Itkin, a jazz musician, his wife Miriam and their five-year-old son Jakob – during the frantic days when they, and thousands of other Jews, flee from Copenhagen to Gilleleje and try to get passage on a fishing boat.
When the Gestapo arrive, the Jews have to hide, sparking heated discussion in the small community: Do we risk our own safety to help others? And, if so, don't we deserve something in return?" (Danish Film Institute)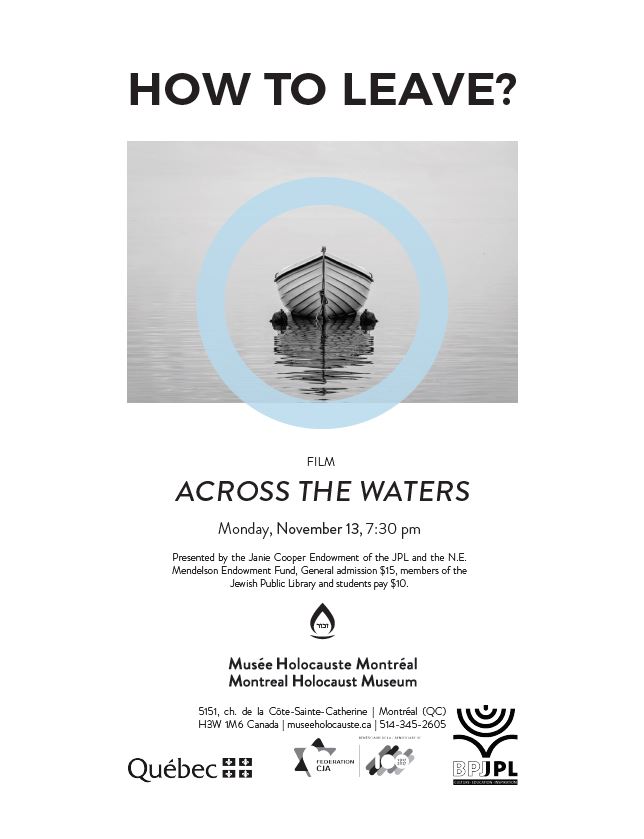 Current Events
Across the Waters was filmed just before large numbers of Syrian people sought refuge in Europe in 2015.  Upon seeing footage of Syrian people walking 160 km from Rødby (where they had disembarked from the ferry from Germany) to Copenhagen, Director, Nicolo Donato expressed the following: "I thought, 'That can't be right.' We just shot a film about how we didn't treat refugees right during World War II, and now it's happening again. It was like we had pasted the film into real life. It was uncanny." (Danish Film Institute)
Rescue During the Holocaust in Demark
"Resistance workers and sympathizers initially helped Jews move into hiding places throughout the country and from there to the coast; fishermen then ferried them to neutral Sweden. The rescue operation expanded to include participation by the Danish police and the government. Over a period of about a month (September 20 into October 1943) some 7,200 Jews and 700 of their non-Jewish relatives traveled to safety in Sweden, which accepted the Danish refugees."(United States Holocaust Memorial Museum)
This event is made possible thanks to the Janie Cooper Endowment of the JPL and the N.E. Mendelson Endowment Fund.
Please reserve your tickets by calling (514) 345-6416. General admission is $15, Members of the Jewish Public Library and students pay $10.
RSVP