(Le webinaire en français aura lieu le 7 mai à 14h00, heure de l'Est.) Join us on May 6, 2020 at 2:00 pm (EST) for a webinar in partnership with Canada's History about curating difficult history with Andréa Shaulis, Curator at the Montreal Holocaust Museum.
Wednesday, May 6, 2020 at 2:00 pm EST (1:00 pm CT)
Webinar with Canada's History
Andréa Shaulis, Curator, The Montreal Holocaust Museum
Preserving the History of the Holocaust
This webinar will present how the Museum's collections of objects and testimonies are curated to highlight the stories it preserves. Andréa Shaulis will discuss what choices were made when developing the Museum's Objects of Interest webpage. She will also present how these artifacts illustrate the Museum's preservation work.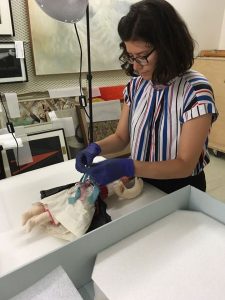 Museum Collections Webinar Series by Canada's History
The Museum Collections webinar series by Canada's History explores the stories that are told through collections and artifacts. History is communicated through stories. In museums, artifacts can tell broad stories, but they also possess their own unique histories and refer back to different periods and people.
By looking at collections from museums across Canada, we can further understand the ways in which they communicate stories to the public. This webinar series features curators and other collections specialists and partners to understand how they decide what gets communicated through their objects.
Who is Andréa Shaulis?
Andréa Shaulis is the Curator at the Montreal Holocaust Museum and has been responsible for its collection since 2016. She first joined the Museum as a docent in 2009 and has an extensive knowledge of its collection and permanent exhibit. Her work with the collection enables her to build relationships with donors and preserve family histories. She is particularly interested in the unique individual stories within the collection, as well as the lesser-known histories.
In partnership with Canada's History
Réservez votre place