To mark the anniversary of the liberation of Paris, join us for a presentation from award-winning author, Anne Nelson about her account of Suzanne Spaak, Righteous Among Nations.
Events starts at 7 pm
Presentation from author Anne Nelson
Bilingual Q&A following the event
Book sale and signing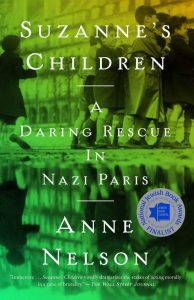 One of the untold stories of the Holocaust—the nail-biting drama of Suzanne Spaak, who risked and gave her life to save hundreds of Jewish children from deportation from Nazi Paris to Auschwitz "vividly dramatizes the stakes of acting morally in a time of brutality" (The Wall Street Journal).
Who is Suzanne Spaak?
Born into the Belgian Catholic elite, Suzanne married into the country's leading political family. Her brother-in-law was the Foreign Minister and her husband Claude was a playwright and patron of the painter Renée Magritte.
In Paris in the late 1930s her friendship with a Polish Jewish refugee led her to her life's purpose. When France fell and the Nazis occupied Paris, she joined the Resistance. She used her fortune and social status to enlist allies among wealthy Parisians and church groups.
Then, under the eyes of the Gestapo, Suzanne and women from the Jewish and Christian resistance groups "kidnapped" hundreds of Jewish children to save them from the gas chambers.
More about the author
Anne Nelson is an award-winning author and playwright. She is the author of Suzanne's Children; Red Orchestra: The Story of the Berlin Underground and the Circle of Friends Who Resisted Hitler; Murder Under Two Flags: The US, Puerto Rico, and the Cerro Maravilla Cover-up; and The Guys: A Play.
Her work has appeared in The New York Times, Los Angeles Times, Harper's, BBC, CBC, NPR, and PBS. Nelson is a graduate of Yale University and a member of the Council on Foreign Relations. She teaches at the Columbia School of International and Public Affairs in New York City.
In partnership with Canadian Friends of Rabbis for Human Rights, the Labour Zionist Circle, the Jewish Public Library and the Jewish Community Foundation. 
Book your free ticket